Welcome to the Loft's weekly news folks, this week we give you our take on the News of The World Phone Scandal, we put the spotlight on Cruinn Design and give you the rest of the news from another packed week at the Loft.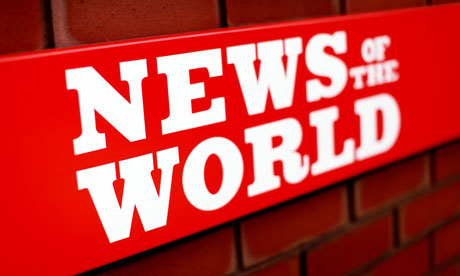 Misunderstanding Change
Well the biggest news this week has been the phone hacking scandal at the News of The World newspaper. Like most, We are absolutely disgusted by what has happened. This goes without saying. We were already outraged by the first allegations of phone-hacking of politicians and celebrities. But the allegations this week bring a new low to our so-called journalists and their behaviour. However, it is emblematic of an industry that is in terminal decline, these were the acts of desperate people in an ever more desperate industry. The News of The World editors and journalists being those that seemed to cling on hardest to their perceived entitlement.
You see, the shifting sands of change stop for no industry. Newspapers are no different. The Sun, Mail, Mirror, as we know them in their current formats – will soon be extinct. The internet and more recently social media has redefined the landscape again. Most people can follow the things/people/companies that interest them on Facebook, Twitter, blogs etc. We no longer need the newspapers to tell us, with their skewed tones, what is happening. We've basically cut out the middle man. And I think this is a refreshingly positive thing for society as a whole. If the newspapers are willing to break the law, and some of the allegations are awful, to source a story then who is to stop them for false reporting to enhance their own ends. There will always be a place for good journalism, but like so many extinct sectors, it will remain at the upper end of the scale. Papers such as the Times may have a future if they remain newspapers of quality, reporting on events and opinions that cannot be easily reproduced by the enthusiastic amateur. But it is the only way they will be able to survive as nobody is willing to pay anymore for the kind of information they can pick up for free.
Ironically the Murdoch empire, now finds itself on the opposing end of change. Never wildly sympathetic to some of the factory workers, ship builders or miners etc who themselves found themselves on the wrong side of change in Britain in the eighties. The Murdoch empire and his newspapers, in particular, are now victims of progress. And with regards to the News of The World, I have very little sympathy. I have always been highly sceptical of the methods employed by various tabloids but the News of the World and its sister publication 'The Sun' took the biscuit. I always found it incredibly sinister that both papers were written by highly intelligent men and women (usually being educated from Oxbridge) who would deliberately and patronisingly dumb down the content to appease their perception of the common man/woman. It was this attitude that made me believe that these publications didn't exist to serve anything other than their own ends. The claims in recent days by some of their staff that they were dealing in 'highly investigative journalism' is laughable. We all enjoy a little gossip, who doesnt? But the News of the World took this to new levels of gutter press and I for one am glad to see the back of it. It also signals the end of media moguls such as Murdoch having such power over our society as a whole. This can only be a good thing.
You see this isn't the first time that Rupert Murdoch has misunderstood the digital revolution. His insatiable eye for profit saw him buy Myspace in 2005 for 580 million dollars, only to sell it five years later for £35million dollars. And in the process, costing his company a cool billion dollars. He has also bought and sold sites like Photobucket (remember that?) and a host of other failed internet ventures. In each and every case, the Murdoch empire has failed to grasp that the internet changes everything. This is a new landscape. The consumer now holds all the cards, we really don't want to be told what to watch, or read, or buy. The big mistakes in all of Murdoch's internet ventures were trying to turn communication channels into broadcasting channels, where they know best.
The beauty of Twitter, Facebook, the internet as a whole is that we are empowered to follow what we want to follow, read what we want to read, or buy what we want to buy. Myspace at one stage, resembled a spamming site, with horrible pop-up ads appearing all over the screen. Absolutely dreadful compared to the super subtle use of adverts on Facebook, and endemic of the Murdoch's apparent lack of understanding of the internet. The days of the hard sell are over. News International have been guilty of trying to suppress and not empower people. The empire really could learn a thing or two from companies like Google, Facebook or even Amazon that takes the time to build an intimate connection with its audience, before subtly suggesting things that may be of interest to its audience. Or even companies like Apple which profit from simply giving them the means to get on with it in products such as the I-Phone. Its empowerement and not suppression that counts these days.
Which leads me to News International's great white hope, the purchasing of the remaining 60% of BSKYB. Firstly, it should not be allowed, but it may be poetic justice that Murdoch gets his way and purchases the remaining 60%. He may just get himself the biggest of white elephants. Sky may be in rude health at the moment, but it is also living on borrowed time. With more content coming online and proper internet TV's just around the corner, you can guess how many people want SKY to tell them what they can and cant watch as part of their packages. Inevitably, the broadcasters will once again decide to cut out the middle man and sell directly to the consumers. Unless News International can learn that in today's digital age, where we the consumers expect greater attention, intimacy and trust before purchasing anything. They will eventually sell nothing. Be under no illusion Murdoch's power and influence is crumbling. Time stands still for no man or industry, but in a quickly changing world, Murdoch may find that the News of the World may well be the beginning of the end.
Cruinn Design
This week, I had great pleasure in meeting Richard Smith from Cruinn Design. An outstanding interior design consultancy. I first met Richard about 6 months ago at a 4-Networking meet and was instantly impressed by his knowledge and passion for design.
Well this week it was great to catch up with Richard and find out what he had been up to recently. What impresses me most about Richard is his love for true creativity. This mainly involves working on challenging projects with real-life design problems to solve in terms of functionality and user interaction. Not indulgent flights of fancy. He is an exceptional manager of budgets and resources. Being able to achieve a very lot with spectacularly little.
Furthermore, this approach tends to lead to very exciting and creative solutions being used that go against the grain and very obviously avoid cliched solutions that many in his sector lazily employ for the 'wow' effect. Don't get me wrong, Richard is as capable as any interior designer of producing tremendously stylish works of design. His conceptual dentistry is as much testament to that. But Richard's personal style and ethics lead to a much more sophisticated and durable style of design. One that is honest, resourceful and tremendously creative. In addition, the Cruinn logo, designed by Richard is a beautifully subtle design and further testament to his ability to cross disciplines. A hallmark of a great designer.
Richard is a graduate from the Glasgow School of Art in 2006 with a first class BA(Hons)design and also won the Stakis prize for Interior Design. At the Loft, we cannot recommend his work highly enough.
You can check out more from his folio at http://riksmith.carbonmade.com/ and follow Cruinn @cruinndesign
T in the Park
At the Loft, we are massive fans of rock music and so it was great to see the return of T in the park. This year's highlight? Probably the magnificent Foo Fighters for their passion, humility and energy. At one stage, playing in front of the audience in kilts. Absolutely brilliant…
And also, we absolutely loved Radio one's brilliant advert 'Scottish Is..' From a design/branding/marketing point of view, we can wax lyrical about its humour, personality and the fact that the statements were crowd sourced using social media. But in general we love it because we just know its true. If you haven't seen it yet. Enjoy…
Have a great week folks…
Benedetto
Follow us on…
Facebook http://on.fb.me/ejMqSi
Twitter http://bit.ly/i55gEo
Linkedin http://linkd.in/hpTwdn